Sie sind hier: Startseite > English > About us
A family history in a nutshell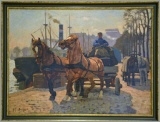 In the year 1932 Evert Blok, the grandfather of the current owner of AMANDA, established a trading company for nuts and dried fruits. This business had its seat in Rotterdam. Until 1940 a factory for roasting nuts was part of the firm. In the late '50s, his son Hans joined the company. During those days the idea rose to start processing nuts again. As a result of this, in the year 1961, the factory AMANDA in Emmerich ( Germany ) was bought. Director was Hans Blok. These days, several types of nuts were processed. In the course of years the factory specialised in the processing of groundnut kernels only.
In the year 1996 Hans' son, Evert, joined the factory, which he took over from his father in 1999. The trading company of 'grandfather' still exists

During the taking over in 1961, the factory was seated in a factory building in the Reeserstraße in Emmerich. In 1974 the building of the current property started, in the Rotterdamerstraße, also in Emmerich. Since then the factory resides there.