Sie sind hier: Startseite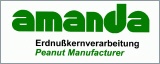 Amanda Nussverabeitungsbetrieb

Wir freuen uns, Sie auf unserer Webseite begrüßen zu dürfen. AMANDA Nussverarbeitungsbetrieb in Emmerich am Rhein ist eine Firma die seit mehr als 55 Jahren Erdnusskerne für die Bäckerei-, Schokoladen-, Eis-, und Müslibranche veredelt.
Bitte wählen Sie Ihre Sprache am oberen Bildrand aus.

We thank you for visiting our internet presentation. We should like to introduce ourselves as a manufacturer of processed groundnuts. For more than 55 years we provide the European bakery, chocolate, ice and muesli branches with sliced, diced and roasted peanuts.
Please select your language at the top of this page.

Wij heten u van harte welkom op onze website. AMANDA Nussverarbeitungsbetrieb in Emmerich am Rhein, Duitsland, is al meer dan 55 jaar gespecialiseerd in de bewerking van grondnoten (pinda's) voor banketbakkerijen, chocolade-, ijs- en muesliproducenten.
Kies alstublieft uw taal in de lijst bovenaan.

Bienvenue à notre présentation en ligne. Depuis 55 ans, nous nous sommes specialisés dans l'utilisation des arachides.
S.V.P. cliquez sur votre langue en haut de cadre.